In this post I've rounded up new apple recipes I've added to my list of recipes to make more often. You're going to love them. Plus a great added benefit is that you can use all your apple preserves like frozen apple slices, apple pie filling, apple sauce and apple butter to make these apple cinnamon muffins extra sweet!
APPLE CINNAMON MUFFINS RECIPE COLLECTION
Apples also grow abundantly in the summer and autumn months and are easy to pick and preserve for the winter and baking. Wether you have a tree in your yard or not, it's easy to find one to pick. Learn how we preserve all our apples in 1 weekend in this post!
Apples are my favourite fruit to grow, bake with and preserve. So much so that I've got my self all wrapped up in a bit of a love affair with the different varieties, recipes, and so much more. With twenty or so apple trees on our homestead, there are endless possibilities.
Muffins are the baking treat that I grew up on. Loaded with hidden vegetables and fruit, sweetness from applesauce and the fibre from oats moms can feel good about the kids snacking on homemade muffins.
Muffins are a great recipe to make from scratch. They often call for eggs and oil but those ingredients can easily be substituted with apple sauce for a healthier alternative. Try apple butter instead of apple sauce for a sweet cinnamon fall flavour.
THE BEST APPLES FOR MUFFINS
With over 7,500 types of apples in the world and 2,500 varieties grown and available in the United States how do you know which apples are best for baking muffins with?
Apples are a versatile fruit, some are best for eating off the tree, others make the best pies and some are just perfect for muffins.
Varieties to keep an eye out for are Jonagolds, honeycrisps, Braeburn, Winesap and pink lady.
Most people like to bake with Granny Smith apples as they are bright green and have the highest nutrient value but they just aren't sweet like the apples listed above.
HOW TO MAKE MOIST MUFFINS
Ideally, moist, fluffy and light muffins are the goal of any home baker. Here are some tips to producing the best muffins with any muffin recipe.
Use eggs, butter and milk at room temperature to help form a smooth batter that traps air and expands when heated in the oven.
Use fresh baking powder and baking soda that hasn't yet expired because they simply won't work as well as leavening agents.
They key to making muffins that don't turn into hockey pucks, is to sift the dry ingredients together and mix the wet ingredients separately.
It's also very important to mix the two together in a way that moistens the batter without any dry ingredients left, but also making sure to not over mix.
The way I do this is by skipping the mix master for my muffins and using bowls, a whisk and a spatula.
HOW TO FREEZE APPLE MUFFINS FOR LATER ON
Once muffins have cooled completely wrap each individual muffin securely with freezer wrap and place in freezer bags. Make sure to label the type of muffin and the date. Muffins can be frozen for up to three months. It's a great idea to make an extra batch, one for eating and one for freezing for a healthy on the go snack.
Wether you too have many apple trees, one or a neighbourhood of fruit just ready to be picked these recipes will help you make the most of an abundant apple harvest season. Go ahead and download our free vintage apple recipe card to record any recipes that get your mouth watering and feel free to share the sweetness by pinning or sharing on social.
These healthy zucchini muffins are amazing! Made with oatmeal, zucchini, apple sauce and my favourite baking ingredient they are moist a great alternative to the popular chocolate zucchini muffins!
APPLE OATMEAL & ZUCCHINI MUFFINS
These apple blueberry muffins are moist and delicious and a great way to add some extra fruit to lunchboxes!
This easy muffin recipe with applesauce is the best homemade baked good for breakfast, snacks, or even dessert. They are sweet, fluffy, and the cinnamon sugar topping is a bit crunchy and rustic which makes these the tastiest muffins ever. These breakfast muffins are great for kids, toddlers, babies, and adults. Everyone will want these sweet applesauce muffins for holiday and weekend brunches.
If you love fall, you're going to love these Caramel Apple Muffins!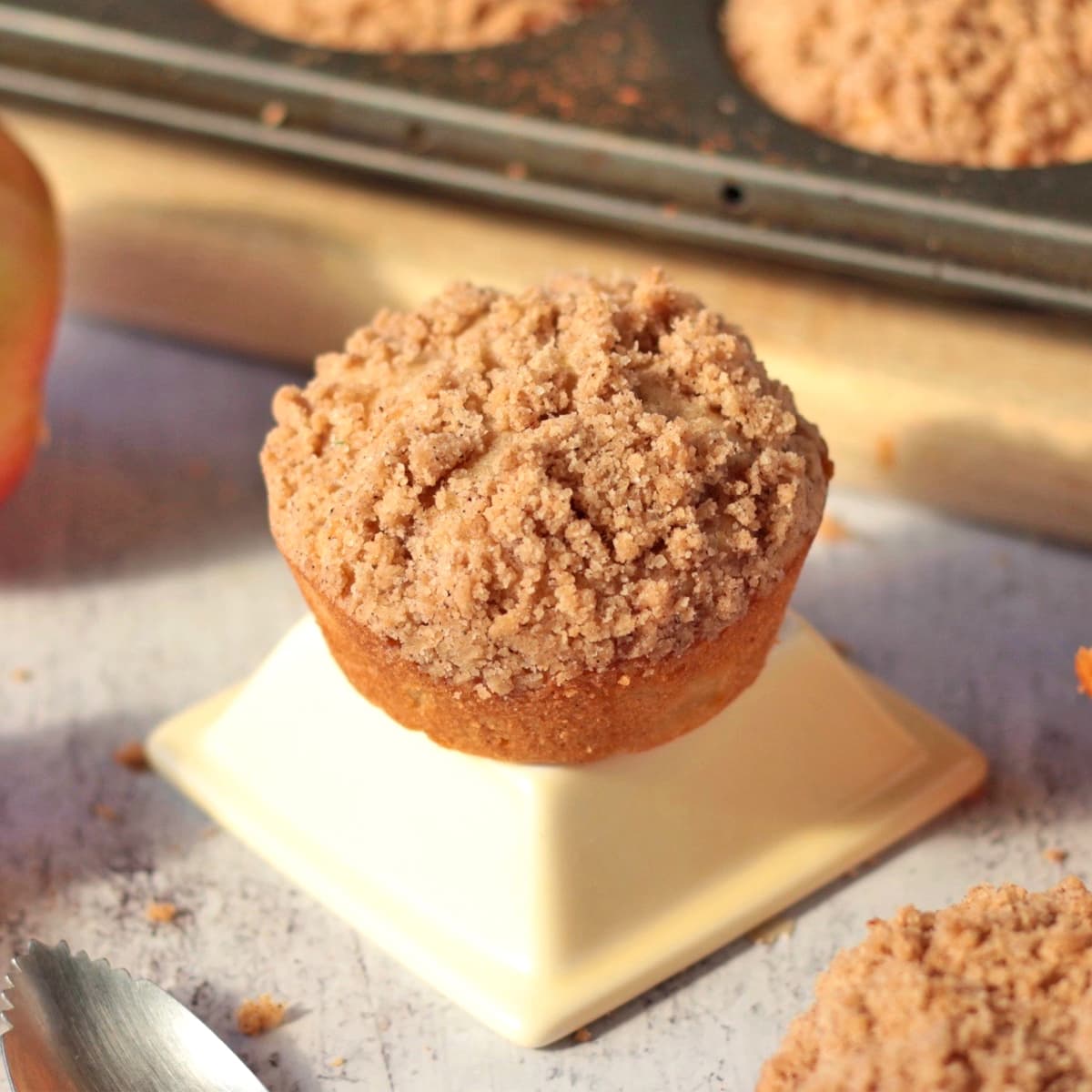 These Apple Cinnamon Muffins with Applesauce and Brown Sugar Cinnamon Streusel are a delicious and easy to make sweet treat to enjoy for a breakfast on the go, with your afternoon tea or as a dessert in your kids lunchbox!
APPLE CINNAMON MUFFINS WITH CINNAMON STREUSEL
Sometimes we all need an energy boost! For a healthy and tasty way to get that pick up, try these energy boosting carrot, apple and chia muffins that can be made in just over half an hour.
Spiced Apple Crumble Muffins are moist, tender, and buttery – perfect for breakfast, dessert, or snacking. Filled with fresh apples, warm spices, and topped with a brown sugar crumble.
Got the Blues? "Beet" 'Em! Beet, Apple, and Walnut Muffins are absolutely scrumptious and have many nutritional benefits that will keep the "blues" away. Did you know that beets are great for uplifting your mind, body, and mood?
I am rather fond of Apple Cranberry and Cheddar Muffins. They're not quite savory, not quite sweet, yet altogether delicious and with little gooey flecks of cheese dotted throughout the crumb.
APPLE CRANBERRY & CHEDDAR MUFFINS
MORE APPLE POSTS YOU'LL LOVE
COMMENT BELOW, WHAT IS YOUR FAVOURITE APPLE MUFFIN RECIPE?