Trying to figure out what to plant this fall? At the end of the summer growing season, it's easy to be done with gardening, so keep it simple and only plant these five simple plants for a better garden come early spring! You'll be happy you did.
WHAT TO PLANT IN THE FALL
The fall is an exciting time for gardeners. The days become cooler and yet are still long enough to get outside chores done before the winter hits. There really is a lot to do, but I'm writing this post to help you have a better spring garden then you did this year by planting just a few things now.
If I only plant and start growing a few things in the fall then it's always going to be these five plants. I'm not going to lie, I'm exhausted by this time of year and want nothing more than the comfort of winter and the wood stove.
BUT by making the plans now to plant only these five things, then life will be easier and ultimately more beautiful come spring. I highly suggest making a plan like I have above using the Happy Homestead Planner and writing down what you'll plant this fall!
Happy Planting 🙂
1. PLANT FRUIT TREES
Our beginners guide to planting fruit trees and starting a small backyard orchard or food forest will help you feed your family for years to come. You'll learn how to grow fruit trees and fruit bearing plants with tips and tricks for planting, maintenance and preserving. Ready? Let's do this!
READ THE BEGINNERS GUIDE TO PLANTING FRUIT TREES HERE
Fall is the best time of year to plant fruit trees as the rain ensures that roots don't dry out and will help the fruit tree become better established. Come the spring new fruit trees will have strong roots to start producing fruit sooner than trees planted in the spring.
As a beginner gardener, I recommend planting one of the following five easiest trees to grow, apples, pears, plums, peaches or figs. Plant fruit trees that do well in your growing zone, not just what you find at your local nursery. Do some research first.
RELATED: BEST APPLES FOR THE Pacific Northwest REGION
Also plant the fruit trees that your family loves! If your kids love apple pie then go and plant apples for future preserving.
RELATED: HOW TO PRESERVE APPLES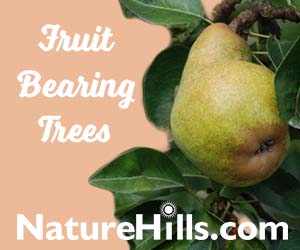 Planting perennial spring bulbs is beyond easy to do and very rewarding come spring. Plant early spring bulbs like daffodils and crocus and enjoy the first signs of spring as early as middle of March. ( depending on your growing zone)
These flowers are also beautiful first scents of spring, enjoy your bulbs by cutting and placing in mason jar centrepieces for your home and neighbours.
Plant bulbs in the ground when soil temperatures hit 55 F, usually when the fall colours are just past their peak. It's best to plant bulbs during the first eight weeks following the first frost.
Buy Spring Flower Bulbs
3. PLANT GARLIC
If you plant anything in your vegetable garden this fall, plant garlic. It's also a very easy plant to grow and first pops up out of the soil at the same time as those early spring bulbs.
Quickly learn how to grow your own garlic for a rewarding harvest come next summer! In this post I'll share with you how to grow your own garlic, from planting your cloves to harvesting your first bulbs!
LEARN HOW TO PLANT GARLIC IN THIS POST
4. PLANT COVER CROPS
Planting fall cover crops in your vegetable beds is a great way to mulch and rejuvenate soil.
A cover crop is a crop of a specific plant that is grown primarily for the benefit of the soil rather than the yield. Plant a cover crop to suppress weeds, manage soil erosion, help build and improve soil fertility.
Popular cover crops are annual rye grass, hairy vetch, buckwheat, red clover and winter rye.
If you have a new lawn space or a lawn that needs support and tuffening up of the turf, then fall is the perfect time for planting grass seed. Plant the seed before a good rain to help the seeds germinate.
MORE FALL ACTIVITIES
Prepare for winter by making the most of the fall season with these fall homesteading chores. I've included a helpful checklist for garden, house and homestead task and even and ways the kids can help to make your life easier!
Check out this list of festive fall activities to get you in the mood to making the most of the autumn season.
91 FESTIVE FUN FALL ACTIVITIES
Homestead Project Planning
From planning your garden to raising animals and everything in between on the homestead. Life can feel crazy, disorganized and often leads to burn out. Especially if you're a beginner homesteader.
That's the last thing I want for any of my readers. So I'm helping you to plan your goals and projects easier with our 5 happy homesteading secrets free planner. Grab yours below and take these fall planting tips and put them into action quicker!