How do you grow fruit trees as a beginner homesteader?
Growing fruit trees is a great way to start a small backyard food forest that will feed your family for years to come. In this post you'll learn how to grow fruit trees and other fruit bearing plants that are easy to plant and produce quickly.
Do you dream of having a sustainable backyard landscape that feeds your family year round?
Plant a backyard garden, an organic oasis, a perennial paradise- otherwise known as a food forest. Roam your backyard all while fill your body with the goodness of the earth.
Planting a perennial food forest garden or orchard should be one of the first major jobs done in the first years on a homestead.
When planning your homestead layout, establish a space for fruit trees and get started right away.
I'll share with you our seasonal approach to caring for fruit trees. Read below to learn how to plant during the spring season, how to harvest and preserve fruit in the fall and winter fruit tree pruning tips.
This year we embark on planting our own orchard/food forest following these principles. After learning from some of the experts in the field. I feel confident that if I can do this, so can you.
I'll show you how with these basic permaculture principles that can apply to any size space.
HOW TO GROW FAST GROWING FRUIT TREES (& FRUIT BEARING PLANTS)
Here is a list of all the content and questions this post will cover. It's lengthly but worth the read.
When is the best time to plant fruit trees?
What are the easiest fruit trees and plants to grow?
List of easy fruit trees
List of easy fruit bearing bushes
The fastest growing fruit tree
How to find cheap fruit trees
Designing your orchard
Sample permaculture design
How to plant a backyard food forest
Choosing which trees and bushes to plants
How to have fresh fruit for most of the year
How to care for fruit trees
Seasonal Maintenance
Pruning
Harvesting and storing fruit
Preserving Ideas
1. WHEN IS THE BEST TIME TO PLANT FRUIT TREES?
Fall is the best time of year to plant fruit trees as the rain ensures that roots don't dry out and will help the fruit tree become better established.
Spring is the best time to plant fruit bearing bushes such as blueberries, raspberries, Loganberries, gooseberries, blackberries and currants.
2. FASTEST & EASIEST FRUIT TREES & PLANTS TO GROW
The easiest fruit trees to grow are going to be the fruit trees that are abundant in your area. What trees continue to grow on well established homesteads in your area? Ask your neighbours what they grow, not just what fruit but what the variety of fruit is.
EASY FRUIT TREES TO GROW
If you asked me what my favourite fruit tree was to grow, and if you could only plant one then I'd say go with an apple tree.
Apples are a versitle fruit, easy to plant, and have endless opportunities for eating, preserving and storing. You can't go wrong with growing apples.
MORE ABOUT APPLES
It wasn't until we bought our homestead that I really started to love pears.
There were two small barlett pear trees side by side and a bear had gone in and destroyed them. With some love, pruning and time I was able to bring them back to life.
Pears are a great fruit tree to grow as they store well in the fridge, they can be canned in a light syrup with is amazing and also makes great windfall chutney.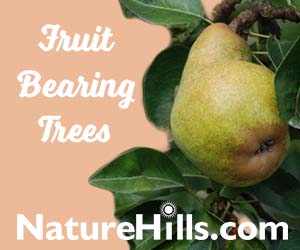 Yellow, red, orange and my favourite, Italian prune plums are just some of the plum tree varieties that grow well.
I find they are the easiest of all stone fruit trees to grow, maintain and harvest.
Peaches require a little more care as they need to be planted on a south facing wall with some coverage. But the best part about growing peaches is they are the quickest of all fruit trees to produce fruit once planted.
EASY BERRIES TO GROW:
There's honestly nothing better than fresh organically grown sun ripened berries picked in your backyard.
Find a space in your orchard where berry bushes get lots of southern exposure and can be protected by a fence from wildlife. All of the following berries can be planted in the spring.
1. STRAWBERRIES
Strawberries grow well with other berries and make a great ground cover in the orchard. They can easily been planted under blueberries, blackberries and raspberries.
2. BLUEBERRIES
All you need is 6 blueberry plants to feed your family for the year. They are a beautiful ornamental bush that provide plenty of vitamin C.
They do take a few years to get established and will need to be pruned every year to keep them producing an abundance of fruit. I advise you to plant more than one so that they can easily pollinate.
Delicious Blueberries From Nature Hills Nursery
3. BLACKBERRIES
Blackberries grown like wildfire here on Vancouver Island and are a delicious treat, especially fresh or baked in a pie. I suggest growing your own thornless blackberry variety for easier picking.
4. RASPBERRIES
Best planted in fertile well drained soil, raspberries are easy to plant. Choose ever bearing varieties for fruit in both summer and fall. They do best when brown canes are cut down after bearing fruit and supported with 2×4's and wires.
FASTEST GROWING FRUIT TREES
PEACHES
Did you know, PEACHES are the fastest growing fruit tree and can grow up to 15 feet in a year!
Peaches often thought of as a southern fruit can grow in area 5-8. Stone fruit doesn't store long, so it's often best to preserve your harvest. I know I can't keep canned peaches in the house long enough.
3. HOW DO I FIND CHEAP FRUIT TREES?
Dwarf fruit trees are the way to go when looking for cheap fruit tree options. Dwarf fruit trees are smaller, can be planted in smaller yards or pots and produce fruit faster.
Fruit trees can be purchased from local nurseries, big box store nurseries such as Costco, Lowes, Walmart or Canadian Tire and from local farmers.
1. BUY FRUIT TREES ONLINE
Order Live Trees. Over 150 species.
BEST FRUIT TREES FOR SALE ONLINE
TIP: Know which fruit trees area best suited for your gardening zone and climate before buying online.
It appears from first glance that buying trees from big box store nurseries is relatively cheaper than purchasing from local farmer or nursery. But be aware that the fruit tree varieties that they sell might not be what grows best in your zone and area. They might also not be organic trees.
RELATED: BEST APPLE TREES FOR WESTERN CLIMATE
BEST APPLE TREES FOR SOUTHERN CLIMATES
SO if you decide to shop this way, I suggest that you do your research and purchase the trees that you know grow well in your area. Ask neighbours about the established tree varieties in their area.
2. LOCAL NURSERIES AND TREE FARMS NEAR YOU
They will have a better idea as to what trees grow well in your area and have more readily in stock. I suggest asking where the trees come from and if they are organic or not.
I've found that grafted dwarf fruit trees from local farmers is the best way to go for cheap fruit trees.
They can guarantee that both the tree grows successfully in your area and give you pointers in caring for the tree.
Trees that are not yet potted up are also cheaper. Buying in larger quantities may also get you a deal on the fruit trees.
In the spring keep an eye out for plant fundraisers as this may be a way of saving or at least supporting charities at the same time.
3. GRAFTING FRUIT TREES FROM CUTTINGS
Ultimately, THE cheapest option is to learn how to graft fruit trees yourself and practice rooting and grafting your own trees from cuttings from your neighbours.
This is obviously the longest commitment to getting fruit trees for cheap. If you're planting a whole orchard to run as a business one day it may be the way you go.
RELATED: HOW TO GRAFT FRUIT TREES
4. ORCHARD DESIGN IDEAS
Designing an orchard isn't as easy as designing a vegetable garden. It's easy to plant a vegetable garden to production, learn from your mistakes and correct them the following year.
When planning out a food forest, it will take a few years for fruit trees and berry bushes to really start producing.
I'll share with you some important questions to consider when designing your orchard, food forest landscape.
When designing a backyard orchard or food forest it's most important to consider many aspects of permaculture to have nature work with your orchard, not against you.
Permaculture basically means creating an ecosystem where a variety of plants grown together thrive and complement each other.
Here are a few questions to consider when designing your orchard.
How far apart do trees need to be planted?
What is the shade canopy of the tree at full size?
Does the fruit tree self pollinate or need to be planted in sets?
What is your available space?
How might you plant your desired fruit trees and bushes so that they all benefit?
Will your fruit tree need to be watered?
Where is your water supply to water your trees?
Can you plant your orchard close to your chicken coop to best utilize their manure and tilling abilities?
Sample Permaculture design
When planting an orchard, it's best to design a food forest that takes care of it self and doesn't require a lot of maintenance.
By using permaculture methods, your orchard will work for you so you can spend more time doing what you love- eating the fruit, harvesting and preserving for the winter!
We are currently planting our orchard. Some of the permaculture components I included was choosing a space that is at the bottom of the hill for water run off and has full sun.
It's also the closest field to our house for easy picking and transporting to our cellar. It's also closest to the road, so that the trees will eventually be a screen for traffic.
Low blueberry bushes will run the fence line, with strawberries underneath. Our larger semi-dwarf trees are being planted in behind to shelter the berry bushes but not shade them.
A backyard food forest is simply a form of permaculture that self sustaining homestead gardeners like to refer to as.
It seems to becoming all the rage amongst urban homesteaders and city folk gardeners.
Fill empty plots with food forests for all. This is what school gardens are becoming and what cities should embrace.
How to plant a backyard food forest
A food forest consists of perennial foods that grow well together in a variety of heights, layouts and designs. The plants care for one another in a symbiotic relationship. A perfect marriage- where both help each other thrive.
My favourite picture of this is the indigenous three sisters planting method for planting method.
Corn surrounded by beans to climb the stocks and squash to help retain moisture around the corn and beans. It's a perfect image of a symbiotic relationship- where every plant thrives.
HOW DO YOU CHOOSE WHAT FRUIT TREES AND BEARING BUSHES TO PLANT?
I always start by asking myself what do we need to scratch off our grocery list that's expensive? What can we plant that we will eat and eat a lot off?
If you have limited space, choose smaller trees and bushes that you don't have access to. If your neighbour has fruit trees they don't pick then you could glean instead of growing your own.
HOW TO GROW FRESH FRUIT TO EAT FOR A LARGE PORTION OF THE YEAR
Choose plant varieties that produce at different times for an endless supply. Look for these varieties.
– early season
– mid season
– late season
– and those that store well
Apples are a great example, in the Pacific Northwest region, Transparent apples are ready for harvest in July, where as some varieties aren't ready to pick until October, and some store well into spring. This is where doing your research will really pay off.
HOW TO CARE FOR FRUIT TREES
FALL & SPRING SEASON MAINTENANCE
The best way to care for your fruit trees and berry bushes in the spring is to provide trees and bushes with soil building amendments both in the fall and early spring.
Add clean pot ash from the wood stove or garden store to berry bushes. Add chicken manure, wood shavings and topsoil from the chicken coop to ensure soil gets more nutrients and improves production.
To prevent weeds freshly mulch around plants with straw, grass clippings or leaf mulch.
Pruning fruit trees is a crucial task in keeping fruit trees healthy and producing high yields in the fall. It's also very important to make sure that you prune fruit trees at the right time of year and during dormancy to ensure a healthy harvest the following year.
At the end of the winter or end of fall when weather is mild is the best time time.
Stone fruit trees such as cherries, peaches and apricots should be pruned in late summer to early fall after the fruit harvest to prevent disease.
HARVESTING AND STORING FRUIT
This is my favourite time of year!
Picking and enjoying fresh fruit from your backyard food forest on your homestead. It's also one of the busiest times of year as we try to pick, store, can and preserve as much of it as possible before the bears arrive!
LEARN HOW TO BUILD YOUR OWN ROOTCELLAR HERE
PRESERVING FRUIT IDEAS
Send your fruit in whole to a winery to make your own fruit wine or cider. We do this every year with our plums for a nice spritzy drink to give as Christmas Presents. Grab the free wine label printable below.
Learn basic hot water bath methods and make jams, jellies, chutneys, compotes and pie fillings!
Dehydrate fruit and make fruit leathers. Check out our apple chips recipe below! Heres a list of 47 Foods you can make in your dehydrator as well!
Freeze fruit by flash freezing then storing in airtight freezer bags.
Feed extra fruit to farm animals. These are our lambs in their old pen where our orchard is now!