If you are looking to have more fresh, organic fruit at home, growing it yourself is the perfect way to accomplish that. You don't need a big vineyard just to grow fruit in your own backyard. There are some fruits that grow in pots, both outside and inside your home.
In this post I'll share with you the best fruit trees to grow in pots!
GROWING LEMON TREES IN POTS
One of the easiest and most popular patio fruit trees is the Meyer Lemon. A Meyer Lemon tree is a hybrid between a lemon and a mandarin orange. The result is a surprisingly sweet lemon that's perfect for baking, cooking or just garnishing a cold glass of tea.

Meyer Lemon Tree Gift Set
The Improved Dwarf Meyer Lemon is ideal for small spaces – able to fruit at just 2 feet tall. Grow your patio Meyer Lemon outside during the summer months, and bring it into a sunny room during winter.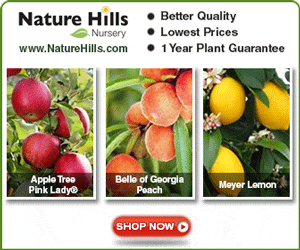 When you make things like lemonade or want lemons for your fruit-infused water, you typically want a large amount of them. While they aren't super expensive at the grocery store, it does add up, especially when you want to organic varieties.
You can grow your own lemons right at home in a container without needing to plant large lemon trees that are difficult to take care of.
Just make sure your container is in the right environment for growing.
Learn more about growing lemon trees indoors in this post from Apartment Therapy.
GROWING LIME TREES IN POTS

Mexican Lime Tree
GROWING PEACHES IN POTS
You can also grow your own peaches at home by using pots, but they should be outside with nearly full sun to grow properly. You want to use large pots for your peach trees, with potting mix made of soil.
Choose a sunny spot that does have good shelter to keep out bugs and pests that might want to eat the juicy fruit.
One great benefit of growing a peach or apricot patio tree in a pot is that you can bring them indoors if a late frost is forecast. This will protect their delicate flowers so they'll fruit later. It's an ideal solution if you live in colder climates that tend to kill off peach blossoms!
If you want to give patio peach or apricot trees a try, check out my favourite peach varieties:

Babcock Peach Tree
Or go ahead and browse the best quality fruit trees at Nature Hills Nursery below.
Another tip for growing peach trees on your patio is you'll need to feed your peach trees in the spring and may need plastic sheeting when you first plant them for extra protection.
And if you're looking for the perfect pot for planting your new peach tree, wouldn't you agree that this pot is absolutely amazing! I've gone and added it to my homestead Wishlist.

Vintage Pottery Cream 11.5 Inch Peach Planter
HOW TO GROW STRAWBERRIES IN POTS
Who doesn't love strawberries? These not only grow in pots, but are often one of the easiest fruits you can grow at home.
Yes strawberries aren't technically a tree, but with the right pot, a little creativity and some inspiration you can grow a strawberry tree ( or a planter that looks like one! )
You don't need a lot of space, so pots of just about any size will be good for growing strawberries. You can grow them on your patio in pots, or even inside your home if you have enough natural sunlight.
These are popular among people in apartments or townhouses who don't have backyards, but can grow them out on their balcony or patio. These hanging strawberry grow bags are perfect for a balcony!
If you have limited space, I really do suggest the composting garden tower. It's the coolest gardening planter tool all in one. Strawberries grow so well in a terracotta planter pot, and also grow well with chives as a companion. Add other companion plants to the planter pot and you've got yourself a whole vertical garden and compost system!
Learn more about this garden tower by clicking the image below.
GROWING APPLES IN POTS
You can also have fresh apples at home by using large pots. You need large pots and the dwarf apple trees in order to grow them in this manner.
However, even with dwarf trees, you will still get full-sized fruit. This is also the same for pears, which grow in the same seasons.
You will typically have both apples and pears between the summer and fall seasons if you start growing them in pots in the early spring. Make sure frost is gone before you start them.
Looking to add more fruit trees to your own backyard orchard?
Learn more about how to grow fruit trees
MORE GARDENING CONTENT