If you do anything on the homestead this winter, prune your apple and plum fruit trees. Mid winter is the time to prune your fruit trees for a healthy, abundant harvest in the summer. I'll share with you three easy pruning tips and tricks to make that first cut less stressful!
Our homestead orchard only consisted of an Italian prune plum tree, a grafted mixed apple tree including transparent and two sad pear trees. To say the least, they were in need of love. I couldn't wait to prune these overgrown trees this since we bought our property.
Now, we are in the middle of planting our apple orchard. Soon we will have endless fruit and I can start really canning and selling my preserves.
Part of bringing life back to our homestead meant pruning the old orchard. The trees hadn't been pruned in over 20 years and were overgrown, crowded, and just ugly. Thankfully they are still happily producing fruit.
They started to become a major issue when deer were eating all the lower fruit, and a bear managed to climb and damage the tree.
It's important to prune your fruit bearing trees to improve the overall health of the tree, the amount of fruit it produces and to prevent the tree from attracting unwanted animals. In this article I share with you the basics of pruning your apple tree.
HOW TO PRUNE AN APPLE TREE
So you want to prune your apple trees. You're about to be blessed with an abundant apple harvest come the fall. Pruning your apple tree, whether old and neglected or mature and overgrown your apple tree will benefit.
It may be this year or the next when you see a boost in the apple crop. Most apple tree varieties produce every year, where as some will be biennial bearing which means one year will be a heavy crop and a lower yield the following year.
If the tree doesn't produce fruit after being pruned over two seasons it's time to look at other issues. It may not be getting enough sun or water. And then, maybe it's not even an apple tree.
WHEN SHOULD APPLE TREES BE PRUNED?
The best time to prune apple trees is in the late winter or very early spring before the tree has started to show any signs of new growth. Pruning an apple tree needs to take place when the tree is dormant, when the leaves have fallen and before sprouting new buds.
A apple tree should be pruned in it's third year of life. Young trees will require more skill and knowledge to ensure that they have the best chance to grow into a strong mature tree by the time it reaches it's fifth birthday.
CAN YOU KILL AN APPLE TREE BY OVER PRUNING?
An apple tree can't be killed by being over pruned. It's almost impossible to kill a mature overgrown apple tree by pruning it. All of the complex pruning happens in the first three years of an apple tree's life.
CHOOSING A BRANCH DESIGN
When pruning fruit trees there's two methods or branch designs you might say that guide your pruning. Those are the ladder style and the basket style.
The ladder style of pruning is just as it sounds.
The basket style of pruning allows for more sunlight, easier picking and more fun to climb.
For our trees, we decided the basket was best for our trees. It makes for a better climber and ours were already previously – forever ago- like this. And what kid doesn't love climbing trees?
Consider the current shape of your tree, and what your needs are before you start to prune.
PRUNING TOOLS:
HAND PRUNERS
with a maximum cutting capacity: 5/8 inch diamater
LOPPERS
are great for large thick branches. These are the loppers I use pictured below.
You'll also need a large curved saw for the biggest branches, and an orchard ladder.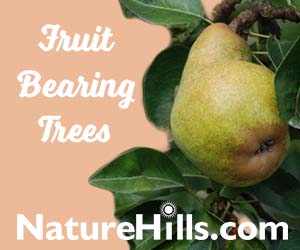 We started with a large curved saw and chainsaw to prune the larger branches that needed to go. Then I went around with the loppers and he went around with the small hand pruners.
WHAT BRANCHES DO YOU NEED TO PRUNE ?
The very first step to pruning an apple tree is to start by removing the 3 D's, dead, dying and diseased.
Remove the DEAD, DYING and DISEASED branches first. This wasn't hard after we had a bear get into the apple tree this fall. Which thankfully sparked our need to do this chore.
Once you've removed the dead, dying and diseased branches look for your main branches for your design choice. Remove those that are new shoots growing straight up. Then remove the branches that cross each other. Also remove the branches that grow inwards towards the centre of the tree.
These are the very basic pruning tips for pruning your apple trees. By just doing these basic pruning jobs, you'll make a huge difference in the health and production of your apple tree.
After doing this pruning to my apple tree ( with the bear in the photo above) I was able to handpick 3/4 of my apples from the ground because the tree was so heavy with fruit!
All the best, and comment below if you have any questions or comments!
Here's a quick recap.
Prune Apple Tree is the winter when it's dormant.
Remove ,dead, dying and diseased branches
Remove new shoots growing straight up
Prune any branches that cross each other
Remove branches that grow towards the centre of the tree.
More Apple Tree Articles
PLANTING APPLE TREES
Best Apple Trees for a Southern Climate
How to grow apple trees from seed
Best Apple Trees for a Pacific North West Climate
How to preserve your apple harvest
MORE APPLE POSTS
Pin for Later Reading