We've all had apple pie and apple crisp for dessert at some time or another. With a freezer and pantry full of apple preserves for the year it's time to get creative with new apple dessert recipes your family will love !
In this post I've rounded up new apple recipes I've added to my list of recipes and I know you're going to love too. Plus a great added benefit is that you can use all your apple preserves like frozen apple slices, apple pie filling, apple sauce and apple butter to make these desserts extra sweet.
Apples are my favourite fruit to grow, bake with and preserve. So much so that I've got my self all wrapped up in a bit of a love affair with the different varieties, recipes, and so much more. With twenty or so apple trees on our homestead, there's endless possibilities.
Wether you too have many apple trees, one or a neighbourhood of fruit just ready to be picked these recipes will help you make the most of an abundant apple harvest season. Go ahead and download our free vintage apple recipe card to record any recipes that get your mouth watering and feel free to share the sweetness by pinning or sharing on social.
Caramel Apple Dump Cake is beyond easy to make using only a few ingredients. Simply throw it together and bake it in the oven for the perfect last minute desert or birthday cake. This recipe is ideal for baking with kids or when you've just ran out of time.
Caramel Apple Cheesecake Bars are a drool worthy summer and fall desert treat that your guests are going to ask you for the recipe upon first bite. Don't worry, I've got you covered and this recipe is beyond simple.
This super simple Fathers Cake is an old fashioned, from scratch cake recipe that comes from my great grandmothers cookbook. As you know, I'm a huge fan of anything involving apples, oats and old fashioned vintage things. So naturally this cake would be the icing on my cake!
OLD FASHIONED FRESH APPLE CAKE RECIPE
This classic old fashioned apple pie recipe has an apple butter bottom, apple pie filling and a rich buttery crust for the best pie you've had. You're going to love it. Just don't forget the ice cream.
This easy apple crisp is made in the cast iron skillet with oatmeal as the topper. This is a perfect fall dessert to use up extra apples. Cast Iron Apple Crisp is a simple yet delicious old fashioned dessert. Perfect topped with ice cream or whipped cream for a crowd.
This Apple Lavender Galette is a rustic and aromatic dessert with fresh apples, dried lavender buds, and a flaky homemade crust. It's easier to make than a pie, but it's just as delicious and is sure to impress everyone!
This Spiced Apple Loaf Cake with Applesauce makes the most delicious Autumn and Winter dessert. The Applesauce Bread is packed with chunks of Apples and Spices; perfect to enjoy with your afternoon tea!
This stunning dessert is delicious, yet surprisingly easy to make! Wow your guests with this heavenly apple rose tart with dulce de leche! This tart is similar to the classic French apple tart, but instead of the apple compote on the bottom, I added dulce de leche, instead. The result? AMAZING! Apples are absolutely perfect with dulce de leche!
A perfect fall treat: an easy apple galette made from scratch with warm caramel drizzled on top. They're elegant, rustic, and so easy to make their nickname is 'the lazy cook's apple pie'!
Autumn apple walnut cake, perfect for tea time. It's fluffy, super moist, loaded with apples, nuts, and cinnamon. It's simple and quick to make. It's sweetened with both brown sugar and honey. Brown sugar adds amazing caramel flavor and the honey makes the cake super moist. It also tastes amazing the next day!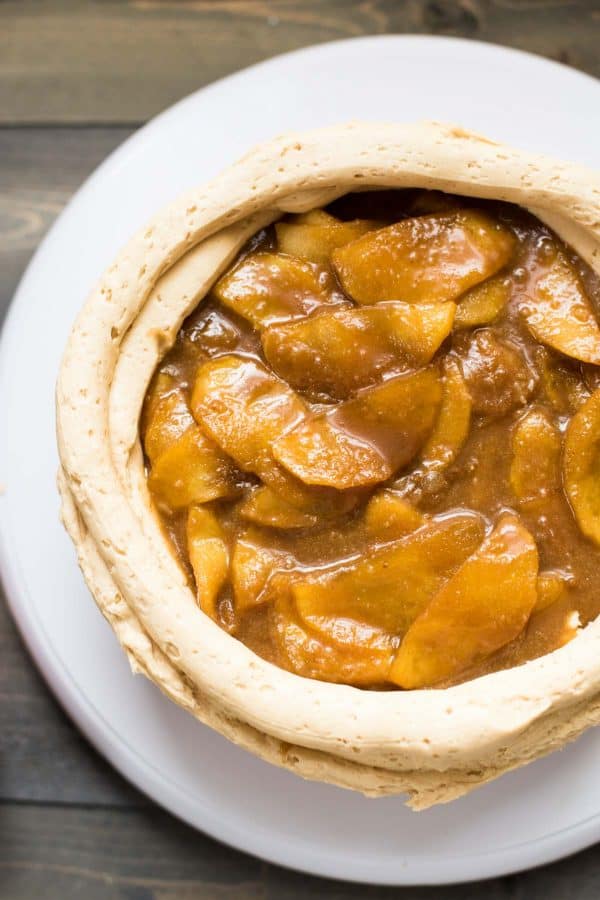 Super tender apple and spice cake layers filled with gooey caramel apple and coated in fluffy salted caramel buttercream. Apple Cider Cake is like going apple picking but not having to get out of the car, all the tastes of fall in one delicious cake!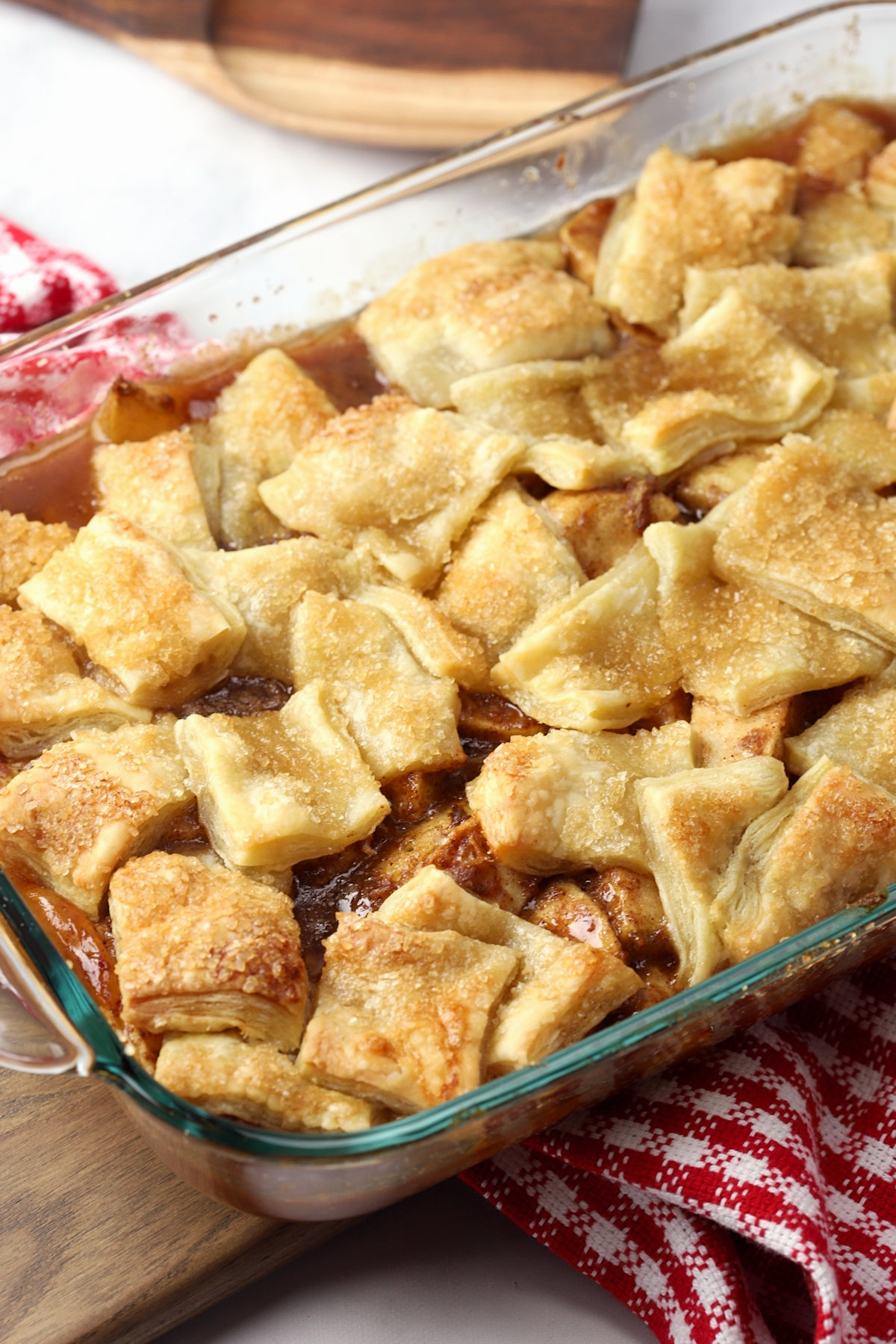 Apple Pan dowdy is a classic American dessert. Spiced apples are topped with rustic puff pastry and drizzled with melted butter, with a crunchy sugar crust.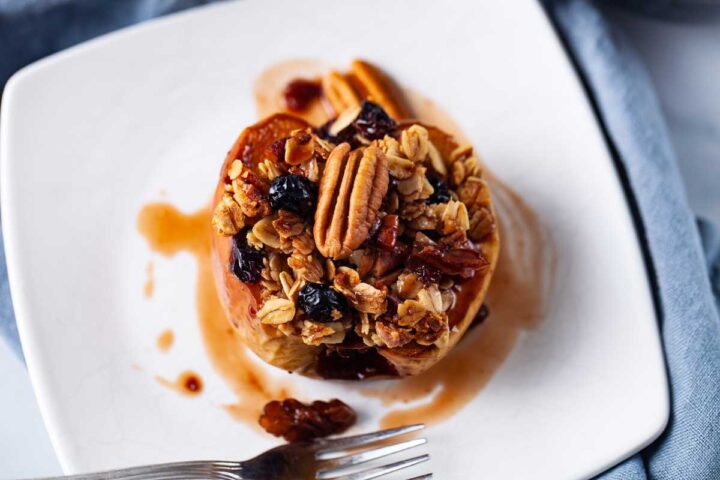 You are going to love these Baked Stuffed Apples. They are deliciously packed with a crunchy oat filling containing buttery pecans and sweet raisins. Then they are baked in Lindemans Belgian Raspberry beer, which becomes wonderfully syrupy and adds an aromatic and fruity acidity. You can enjoy them as-is or with your favorite scoop of ice cream! This dessert is dairy-free.
Called Apfelpfannkuchen in German, this huge light and airy puff pancake is nothing like ordinary American pancakes. This custardy soufflé-like European pancake (also known as a Dutch baby) is made from a very eggy batter that is poured over caramelized cinnamon-sugar apples in a cast iron pan and baked until puffy and golden brown.
This classic fancy-looking cake is quick and easy to make and results in a flavorful, moist, and buttery cake with whole sliced apples on top. Versunkener Apfelkuchen translates to "sunken apple cake" because hasselback-style apples are placed on top of a simple batter, which rises and encases the apples during baking resulting in tender apples peeking out of the golden-brown cake.
These Apple Pie Egg Rolls are the perfect quick and easy treat for Fall! With just 5 ingredients, including apple pie filling, egg roll wrappers, vegetable oil, cinnamon and sugar, they come together in no time. Prepare a simple after dinner dessert that everyone will love in less than 30 minutes with these delicious Apple Pie Egg Rolls!
MORE APPLE LOVE
Comment below, what's your ultimate favourite apple dessert recipe?