If you have a small amount of space to grow fruit and vegetables in your backyard space, than the square foot gardening method is the perfect option of maximizing your yields in less space.
This uniform and exact gardening method takes the guess work out of gardening. The common issue I see gardeners face is the what, when, and how of planting vegetables.
Square Foot Gardening is a great way to answer these questions with straight forward cheatsheets that make planting, succession planting and companion planting a breeze.
Square Foot Gardening is also a wonderful method to use if you plan on building raised garden beds or already have raised garden beds. Keep reading to learn more about how to start your own square foot garden using these helpful tips and resources to get started now.
Square Foot Gardening
There are many ways to grow your own food, from growing fruit plants inside your home near a window, to having a container garden or a large plot of land with herbs and vegetables.
To learn more about other gardening methods for small spaces, take a peak at some of this other related post:
Popular Vegetable Garden Layouts
Another popular option is to grow what is called a square foot garden. This involves using square sections for the growing area. Here is more information about square foot gardens and how to use them.
The Purpose of a Square Foot Garden
The main reason people will do square foot gardens is convenience and lack of space. If you are trying to grow a lot of different vegetables, fruits, and herbs, it typically requires spacing everything out properly.
It can become a little disorganized and hard to keep track of, plus the spacing means you need a good amount of land in your backyard.
With a square foot garden, you usually only have about 12 inches per side, so you can have each square foot be a separate crop or plant that you are growing.
It keeps everything contained in a smaller area and separated properly, but letting you grow even with a small amount of land.
How to Build Your Square Foot Garden
When you want to build a square foot garden, each box in the area should be about a square foot, hence why it is 12 inches on each side. You will want to first decide where the garden will be, and then calculate how many squares you can have in that area.
Creating a grid is really helpful when figuring it out. Then you will need to build a box with this layout, and add potting soil to each square evenly.
For the box, try to use lumber that has not been treated, as you don't want chemicals to be touching your plants and vegetables. To prevent weeds from growing up, use some type of mat materials on the bottom below where the box will be. Compost works really good as potting soil for the square foot garden.
I use the lasagne garden method inside of raised beds to help feed the soil and keep the soil from drying out.
What to Plant
You can plant just about anything in the square foot garden, from vegetables and fruits, to herbs. You can use more than one box for a certain vegetable you want more of, or use each square in the grid for a separate vegetable and herb. Just make sure you label each one so you know when to water it.
The Square Foot Gardening Method shares with you several different layouts and how many plants to place per square foot.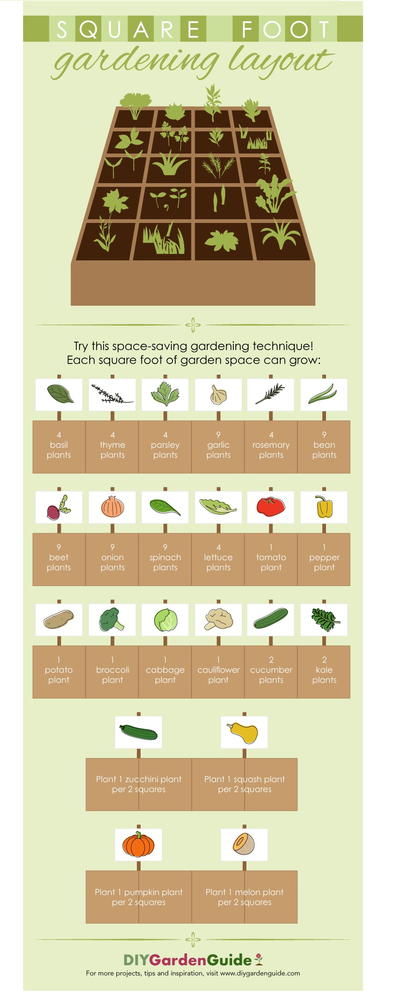 WHAT YOU NEED TO GET STARTED:
This is just a starting point for getting started, If you think that the Square Foot Gardening Method is the best option for your gardening needs, than you'll need to learn more from the man that invented it! This book is super easy to read and apply in time for planting time. Get your copy here.
Reading is one thing, but when it comes time to plant out your garden that's when things get overwhelming!
With the square foot gardening method, it's easy to space your vegetables out correctly with the help of the seeding scare. All vegetables are planted in spacings of 1,4,9 or 16. With some vegetables taking up 4 large square.
There are lots of ways to mark out your squares like gardening twine, rocks or you could make life easier and increase your success with the help of the seeding square.
It's a plastic guide that's one square foot and has all the different spacings plus a handing chart showing which vegetables should be spaced at what distance.
Square Foot Gardening takes the guesswork out of planting the garden, and makes it easy to remember what to plant and where.
It's also perfect for involving the children, without worrying about a package of seeds being dumped in one spot ( ask me how my radish patch turned out last year…)
This method is also perfect for those that tend to be a little type A, hyper organized, or even OCD when it comes to planting the garden. When you have limited space to plant your garden this is just what you need to get maximum harvests.
Square Foot Gardening Chart
Everything You Need to Build a Square Foot Garden
Square Foot Gardening Method Book
Done for you Garden Plans
Seeds ( here's my favourite online seed shop )
Keep learning about Square Foot Gardening Here
SHARING IS CARING