Fresh herbs are one of the staples of down-home, holistic living. They can improve the taste of your food, keep your house clean and fragrant, and contribute to your homestead's overall health and happiness. If you still need convincing, here are a few details about the benefits of growing your balcony herb garden.
Every home needs a herb garden, even if you only have a balcony space, kitchen window or a porch to do so. Learn how to grow your own herb garden so that you too can reap these benefits.
Home-Grown Herbs are Easier on Your Budget
Choosing to start an herb garden is a great way to get more bang for your buck. Dried herbs from the grocery store can come with a pretty hefty price tag. A few rosemary sprigs, parsley, or mint can cost anywhere from $2 to $6 at the supermarket.
For that same price, you can purchase a couple of packets of seeds and grow an entire planter box full of your favorite herbs.
Did you know you can also grow fruit trees on your balcony? Discover the top 5 fruit trees you can grow in pots here.
You Get to Control the Quality of Your Plants
When you buy herbs from the store, you don't know where the plants are coming from or what type of growing, drying, and packaging processes the farmers and factories used.
Store-bought plants may be full of harmful toxins and additives that can cause illness or allergic reactions in your loved ones. Starting your garden is your safest bet for making sure your herbs are of the best quality.
Fresh Herbs Have a Variety of Uses
On top of making your kitchen look beautiful and smell lovely, an herb garden can be handy in your everyday hobbies and activities.
These plants can help with anything from cooking and cleaning to essential health and wellness. Take a look at some of these practical household uses for fresh herbs.
Creating Flavorful Meals
Natural ingredients are an essential part of making delicious and healthy meals for your family. Adding your own oregano, thyme, basil, mint, or parsley to a dish can enhance your food's aroma and flavor.
It can also help cut back the unhealthy amount of salt, fat, and sugar that we often use for seasoning. Using fresh herbs is a great way to make your best recipes even better.
Making DIY Toiletries and Cosmetics
A few sprigs and extracts from your fragrant plants can help you take your homemade hygiene products to the next level. Use them to make soothing lavender bath salts and lemon balm soaps and lotions for your friends.
You can also save a few bucks by making toothpaste and mouthwash using peppermint from your herb garden.

Helping Out With Household Chores
When it comes to sprucing up your home, the plants in your garden can be a big help. Fresh herbs can serve as natural cleaning agents to help keep your home neat and tidy.
Some of the products you could make with herbs from your kitchen garden include:
Disinfectants
Getting a clean home without exposing yourself, your family, or your pets to harsh chemicals is one of the most significant benefits of using natural cleaning solutions for housekeeping.
Add some eucalyptus leaves and tea tree oil to a spray bottle of water to create a safe cleaning agent for your bathroom and kitchen surfaces.
Room Deodorizers and Air Fresheners
Fresh herbs are also great for making your home smell fresh and clean. You can use them to make DIY essential oils that you can place in a diffuser to spread a crisp or citrusy scent throughout the room.
You can also add a few drops to a shaker of baking soda and use it to deodorize your carpet or put some in a spray bottle of distilled water to freshen up your fabric-covered furniture.
Laundry Room Essentials
Your herb garden can be helpful on laundry day as well. Many homesteaders already make homemade laundry detergent that they use to wash their family's clothes, towels, and bed linens.
Adding herb extracts and essential oils is a perfect way to include fragrances in your dryer sheets and detergents without having to worry about harmful chemicals that can cause skin irritation and rashes.
Pest Repellent
Setting herbs in specific places can help you keep critters out of your home. Hang a bundle of bay leaves in your closet to deter moths, or lay it in your pantry and cupboards to get rid of ants and spiders.
Lemon balm and lavender oils can serve as a mosquito repellant when your little ones play outside. Some people also believe that the strong scent of peppermint and eucalyptus can keep mice away.
Healing Properties for Home Remedies
Many herbs have medicinal uses for treating minor aches, pains, and sicknesses. In fact, the National Library of Medicine has an herb garden that showcases the critical role these plants played in the development of modern medicine.
Peppermint and thyme tea is a great decongestant, while rosemary and chamomile can help improve digestive health.
Start Your Kitchen Herb Garden
Growing an indoor herb garden takes a little work, but the results are well worth the effort.
Decide which plants would be best for your home based on which scents and flavors you prefer, or by checking out the National Library of Medicine list of herbs to determine their medical uses.
Once you've chosen your seeds, grab your garden planner, clear off a sunny windowsill, and get growing!
Words By Hazel Bennett / Writer
HERB GARDENING IS AS EASY AS 1, 2, 3
1. GET STARTED WITH A HERB GARDEN KIT
Are you ready to harvest the many benefits of herbs? It all starts with a plan.
Start your garden today with our garden layout, seasonal task lists, project guides & more printable set.
3. LEARN ALL THERE IS TO KNOW WITH THE HERBAL ACADEMY COURSES
The Herbal Academy is an international school of herbal arts and sciences, offering high quality, affordable herbal studies programs for students online at the beginner, intermediate, and advanced levels. The Academy celebrates the community-centered spirit of herbalism by collaborating with a wide diversity of herbalists and medical professionals to create an herbal school that presents many herbal traditions and points of view.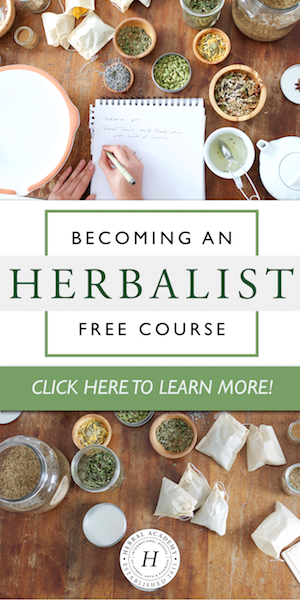 Course educators including leading herbalists such as Steven Foster of the Peterson Field Guide to Medicinal Plants and Herbs, Matthew Wood of The Earthwise Herbal: A Complete Guide to Old World Medicinal Plants, American Herbalist Guild President Bevin Clare, and Anne McIntyre, who has written several books including The Complete Herbal Tutor and The Complete Woman's Herbal. Other notable contributors include Pamela Spence, Steve Kippax, Emily Ruff, Katheryn Langelier, and dozens of other medical professionals, clinical herbalists, and family herbalists.
Explore the Herbal Academy's online herbalist training programs on their website, as well as their dedicated Herbalist Paths, designed to suit your path and your educational needs – from family to entrepreneurial to clinical herbalist career paths!
WAS THIS POST HELPFUL? SHARE & COMMENT BELOW,
Why do you love growing herbs?