There really is a limitless amount of skills to learn on the homestead. Getting back to basics by being self sufficient requires a lot of old fashioned skills that have been lost in todays world.
Learn these skills to become more self sufficient like how to grow your own food, avoid store bought and embrace from scratch cooking, free range organic protein and food preservation techniques to stock pile your pantry shelves.
As a homesteader the bucket list always seems to grow. Here's my collection of Homestead Skills to inspire your journey- no matter where you live!
This is a long post and popular post so I've gone ahead and turned it into a PDF version for you! Get it here.
It's the exact same but excludes the ads, so it's easier to read and can be stored on your computer and printed out for easier reference! Plus I included a fun little bucket list for you to print and add to.
HOMESTEADING SKILLS LIST
Before diving into this giant list of homesteading skills, take note of what your goals are for the season, the year and the next five years. As you go through this list, think about how learning these skills would change your life.
I challenge you to set your own homesteading goals using our goal planning method to avoid costly and exhausting mistakes.
Living on a homestead is a constantly learning curve. It's been the most exciting and scary part of having land, animals and an old farm house.
There's so much to do, so many possibilities and lots of excitement! How do you manage to do it all? I've picked up a few time management hacks when trying to get everything done. Who knows you could just learn it all this year!
Today I share with you a random collection of basic homestead skills you might try adding to your own bucket list. Go ahead and be inspired- just don't think you have to do it all! If I've missed something, PLEASE comment below and let me know! Tell me- What's on your bucket list?
There is a lot to learn when it comes to homesteading. In this post I'll share with you the skills I've learned so far and many helpful resources to help you get started learning something new! There is an endless amount of things to learn and experience.
7 IMPORTANT HOMESTEADING SKILLS
HOMESTEADING is a lifestyle in growing your self sufficiency skills and creating a home that provides the basic necessities for a happy, joyful life.
Some of the important homesteading skills to know are the perfect place to start when discovering how you will meet your basic needs on your homestead land.
1. GROWING YOUR OWN FOOD
A garden is the perfect place to start growing your own vegetables, fruits, herbs and medicinals.
Learn more about growing your own vegetable garden in this post.
2. COOKING FROM SCRATCH
Learn more basic tips for baking from scratch in a simple kitchen.
3. RAISING LIVESTOCK
Discover the best farm animals for beginner homesteaders here.
4. SAVING SEEDS
Learn more about seed saving basics here.
5. BASIC CARPENTRY
6. WINTER SURVIVAL SKILLS
Winter projects on the homestead
7. ESSENTIAL OILS AND HERBAL REMEDIES
50 More Specific Homesteading Skills List
Keep reading for even more homesteading skills that are more specific to building your repertoire of self sufficiency. You'll be surprised that you may just know how to already do some of these things. I've given you a brief overview with links to the best and most popular posts on the net to help you take those next steps in discovering new skills to learn.
Remember homesteading isn't a checklist, it's a lifestyle. Find what works for you, what you enjoy and meets your basic needs at the same time.
Learning to knit or crochet is a great homesteading skill to pass the time away in the fall or winter. Check out our selection of knitting patterns on the blog made just for beginner knitters.
TAKE THE LEARN TO KNIT COURSE HERE
FROM SCRATCH: PUMPKINS INTO PUREE
I make all my pumpkin puree at the peak of pumpkin season in October and just after Halloween. If you don't have your own puree, then go ahead and used canned- but once you've tried it you won't go back!
Here's how to make pumpkin puree.
If planting a backyard vegetable garden is on your homestead bucket list, then look no further than this post! I'm going to show you the very basic gardening tips for the ultimate foolproof approach to vegetable gardening for beginners. Ready? Let's do this!
Take our Veggie Garden Quickstart Email Course and get the support you need!
Our beginners guide to planting fruit trees and starting a small backyard orchard or food forest will help you feed your family for years to come. You'll learn how to grow fruit trees and fruit bearing plants with tips and tricks for planting, maintenance and preserving. Ready? Let's do this!
LEARN HOW TO PLANT FRUIT TREES HERE
If you do anything on the homestead this winter, prune your apple and plum fruit trees. Mid winter is the time to prune your fruit trees for a healthy, abundant harvest in the summer. I'll share with you three easy pruning tips and tricks to make that first cut less stressful!
READ HOW AND WHEN TO PRUNE FRUIT TREES HERE
SELF SUFFICIENCY: START SEED SAVING
The easiest seeds to save during harvest season are tomatoes, pumpkins, zucchini, marigolds. Go ahead and challenge yourself to start a seed stash for self sufficiency.
LEARN HOW TO SAVE MARIGOLD SEEDS HERE
FOOD PRESERVATION: Grow tomatoes from seed and make salsa
SELF SUFFICIENCY: USE MASON JARS FOR …EVERYTHING!
Simply white chalk painted mason jars can be one of the most useful rustic centrepiece. Create a mason jar farmhouse decoration in only a few minutes! Change the greenery to match any season, holiday, or colour scheme.
LEARN HOW TO PAINT MASON JARS HERE
Not only do creative hobbies allow for increased endorphins ( the happy hormones) they also provide a way for moms especially to feel productive, mentally sharp by learning something new and as a way to turn a hobby you love as an extra income source.
Apple Pie is by far THE best desert. Who doesn't love apple pie? Warm sweet apples, hints of cinnamon and vanilla, and a buttery flaky crust. Learn how to make homemade apple pie from scratch and you'll be asked to make the pie for all the potlucks and family dinners.
LEARN HOW TO MAKE AN APPLE PIE HERE
EASY PIE RECIPES FOR BEGINNERS
This Apple Sauce recipe is a quick and easy option for canning apples in bulk, When apple season is at its peak. A great grab and go snack for the babies and the kids lunches. A cheap and healthy pantry staple, this no sugar apple sauce recipe is a must for your family!
Baking your own bread, especially sourdough, is an amazing skill to learn on the homestead. It makes for a great fall or winter project when the garden is at rest.
Learning how to do it yourself is the first step to failure. Trust me I know ! I took this amazing master class and am now baking my own artisan style bread and my family loves and prefers it over bakery bought!
LEARN MORE ABOUT THE ART OF SOURDOUGH COURSE HERE
FOOD PRESERVATION: MAKE JAM
You're going to be surprised just how easy it is to make your own jam and jelly using fresh fruit you've picked. Strawberry jam is our personal favourite, but once you've learned how to use a hot water bath safely you'll master this homesteading skill in no time at all!
Deep fried turkey is the quickest and tastiest way to cook a turkey. It's also becoming an ever popular way to cook a turkey and impress your friends and family over the holidays. Get outside this Thanksgiving and deep fry your own turkey. Just follow our guidelines and you'll be safe!
LEARN HOW TO COOK A DEEP FRIED TURKEY HERE
GROW YOUR OWN FOOD: MAKE A GARDEN FRESH SALAD
Adding a vegetable garden to your front, backyard or even patio balcony is an exciting venture! Learn to how to start a successful veggie garden with our complete guide for beginner gardeners and start making your own garden fresh salad!
I love foraging for mushrooms! Once you've discovered this fun hobby and the taste of wild mushrooms in your soups and stews you'll be hooked! The Herbal Academy has an amazing course to help you identify the safe mushrooms to eat and how to preserve them for ultimate health benefits!
LEARN MORE ABOUT THE COURSE HERE
FOOD PRESERVATION: DEHYDRATE APPLES
Dehydrating apples is a quick and easy snack to make during the peak of apple season. Apple chips are a healthy, low sugar treat for kids and families. In this post I share with you how to make this super simple recipe!
LEARN HOW TO USE A DEHYDRATOR IN THIS POST
Homemade Laundry detergent is shockingly easy to make, requires only a few ingredients and costs next to nothing compared to the liquid laundry soap at the store. Make your own homemade laundry detergent using items around your house with this easy recipe!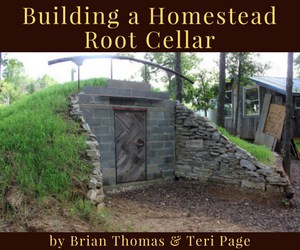 Having a root cellar on your homestead is a total game changer for growing and storing your own food for the winter! We will be using these plans to help us make our own rootcellar as our next step to self sufficiency.
I trust Teri and Brian when it comes to homestead building project plans and their blog is beyond helpful for beginner off grid homesteaders! You need to check them out.
Imagine enjoying a nice hot piece of pizza right out of your new backyard bread and pizza oven. Nothing is better than bread and pizza from a wood burning oven! This is a great project to learn and complete for endless years to come.
LEARN HOW TO BUILD YOUR BACKYARD BREAD OVEN
If you own a few acres or more, running a horse boarding business is a profitable side hustle for your homestead. Today I'll share with you my experience running a small self boarding horse ranch and some tips and considerations to help you decide if this is the right homestead side hustle for you!
More than ever, every homestead should have a set of backyard chickens in their yard. In this post I'll show you just how to get started raising backyard chickens for the absolute beginner. In just a month, you'll be collecting eggs daily!
LEARN HOW TO START RAISING CHICKENS FOR EGGS
FORGET STORE BOUGHT MILK: RAISE GOATS
If you're looking to start raising goats on your small hobby harm and homestead or just dream of owning your own cute little goat then you've come to the right place. Goats are the perfect beginner animal for small hobby farms .
LEARN ABOUT RAISING GOATS IN THIS POST
If you have an incubator, spring is the perfect time of year to keep it going and sell day old chicks to other homesteaders. Learn how to get started making money with chicks in the post below.
The art of chicken hatching is one that many homesteaders have mastered over the years. Theres an awful lot of science involved in the process that can make it overwhelming for beginners, but it doesn't have the be that way! In this post I'll share with you everything you need to know for a successful chicken hatch!
Gaining farm status as a homesteader is a great way to save money, receive grants and tax benefits for growing and selling food to your community. Sometimes it just means expanding what you're already doing for your family just a bit!
I highly recommend FreshBooks for organizing your receipts and accounting for making this application much easier!
GET STARTED WITH FRESHBOOKS FOR FREE
Learn how to to make money on your homestead by raising meat chickens for profit with our tips and tricks for a productive and effective meat bird production on your hobby farm or homestead.
Learn just how to make beef bone broth using beef bones, vinegar, water and the optional vegetables and herbs. You'll never have to buy beef broth again at the store and reap the many nutritional benefits of bone broth currently taking the health industry by storm.
Pumpkins are a great treat for chickens. They are safe to eat and have many benefits for your animals. Find cheap and even free pumpkins to feed your animals this fall. Learn more about why chickens and your livestock love pumpkins just as much as we do in this post.
FREE RANGE LIFESTYLE: CARE FOR BABY CHICKS
Learn how to care for chickens after they've hatched with our baby chicken care guide, in this post you'll learn everything you need to prepare for and take care of your baby chicks after they've hatched!
Have you been thinking of starting to share your expertise with the world? Now is a great time to start your homesteading blog, but it can be overwhelming to know where to start. I've put together the resources I use in this post, I suggest you read before diving in!
The Backyard Bread & Pizza Oven, a step by step guide to building your own outdoor wood-fired pizza
Goats are a great foraging animal and will eat whatever they can get in their mouths. One summer we didn't plant our vegetable garden, next thing we knew we had grown weeds and bramble higher than myself. It was time to find goats to clear our land.
Angi has put together an amazing course that teaches you how to help prevent your family from getting sick during the cold and flu season. This course is totally for you if…
You've never used any herbal remedies but are tired of giving your family pharmaceuticals with their long list of side affects and want to try something that is both safe and effective this cold and flu season.
You've been researching natural health for a while but feel overwhelmed by all the information floating around the internet and get stuck when it comes to developing a cold and flu protocol for your family.
You've been purchasing pre-made herbal remedies for your family and know there must be a less expensive way to treat your family naturally during the cold and flu season.
GET THE SIX HERBAL REMEDIES FOR COLD AND FLU SEASON!
EVEN MORE HOMESTEADING SKILL IDEAS!
Propagate plants using root cutting
Learn how to graft a fruit tree
Identify wild edibles on your land
Plant a row of rasperries
Collect more heirloom seeds
Plant a row of blueberries
Build a proper greenhouse
Replow and plant a hay field
Learn to crochet
Learn how to weave
Weave baskets
Make candles
Turn dads old clothes into play clothes for kids
Go without the grocery store for a month
Render tallow from beef cattle for soap making
Render lard from pork for cooking
Tap our maple trees for syrup
Make butter
Make my own apple cider vinegar
Ferment foods
Make my own vanilla extract
Make our own beer
Make our own sausages
Roast my own sunflower seeds
Use a pressure cooker to preserve vegetables and meat
Learn to milk a cow
HOMESTEAD SKILLS
Homesteading no matter where you live is possible and leading a handmade homegrown simpler lifestyle for you and your family is one that truly offers happiness that can't be bought.
But it's not something that you achieve, it's a journey. Enjoy it. That's why I encourage you to set goals for your homestead that inspire building skills that lead you to the independence you crave.
Learn more about Happy Homestead Goal Setting with our Goal Setting Workbook.
What are some things you've learned homesteading? What's on your bucket list? I know I have to be missing something! Please comment below 🙂
Don't forget to grab the PDF version to to save for later too!
PIN FOR LATER: